1. The Executive Body is the Administrative Body of Sphere India, representative of all types of members in General Body. List of members in Executive Committee: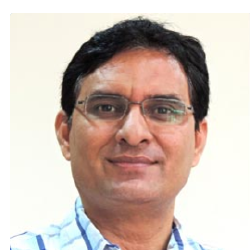 Mr. Mohammed Asif
Chairperson -Sphere India
Executive Director, Plan International
( India Chapter)
Mr. Mohammed Asif is the incoming Chairperson for Sphere India. He is presently the Executive Director, Plan International (India Chapter). Over the past decade, he has ensured the successful implementation of over 500 development projects across India, with an aggregate budget of USD 250 million in partnership with more than 100 grassroots NGOs. Among other successes, the Saksham project for youth economic empowerment has transformed the lives of over 80,000 young women and men. He has been an active member of several working groups within Plan International and is the global Chair of Plan's National Office Programme Directors Network. Prior to Plan India, Asif served with ActionAid International India and the Indian Social Institute.

Ms. Lee Macqueen
Vice Chairperson- Sphere India
Senior Programme Manager
NCDHR
Ms. Lee is the incoming Vice Chairperson of Sphere India and is currently serving as a Senior Programme Manager for DR & DRR at NCDHR's National Dalit Watch. She has anchored research, advocacy, and field-based actions on inclusive disaster response, relief, and risk reduction. Her work gives primacy to strengthening the governance systems and accountability for greater access to social protection and disaster relief entitlements by the marginalized sections. The concerns of women, children, elderly and people with disability within the marginalised communities remain the focus on assessments and advocacy.

Ms. Lee has authored a study, financed by the EU, titled, 'Equality in Aid' (2013), which is a vital resource towards addressing identity-based inequalities in humanitarian response. As the focal point for the Protection Committee of Sphere India, she has been guiding and supporting our initiatives, the latest being the Protection Sector Handbook and is serving as the Executive Vice-Chair of Sphere India, with a passion to make social inclusion the nucleus of its interventions by focusing on those generally left behind.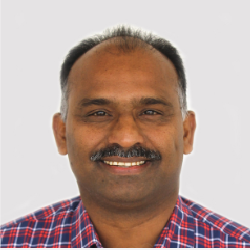 Mr. M. Ramesh Babu
Treasurer- Sphere India
Executive Director, EFICOR
(The Evangelical Fellowship of India commission on Relief)
Mr. M. Ramesh Babu serves as the Treasurer for Sphere India and has been working with EFICOR since 1996, in various capacities in headquarters and field. At present, he holds the position of Executive Director. He worked among the Koya Tribes ensuring sustainability of the development programmes initiated by him. He has the ability to steer the team towards optimum outcomes by creating a result-oriented environment without compromising the values and program quality and also to build the team with a win-win attitude.
Ms. Vaidya Meghana Atul
Executive Member- Sphere India
NNGO representative
Deputy Director – Operations RedR India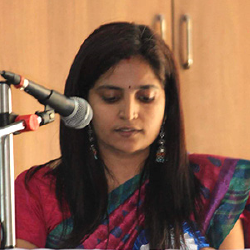 Ms. Milan Kaliyanda Mandana
Executive Member- Sphere India
NNGO representative
Manager -DRR, IGSSS (Indo-Global Social Service Society)
Ms. Milan Mandanna Kaliyanda represents the National NGOs for Sphere India and currently holds the position of an Executive Member. She specialises in community development from the School of Social Work, Roshni Nilaya, Mangalore. Ms. Milan has over 14 years of experience working with the development sector. She joined Caritas India in the year 2005 as a Program Support Officer and handled Tsunami rehabilitation programme in Tamil Nadu for five years. Ever since 2011, she has been a frontrunner in developmental projects concerning Disaster Risk Reduction and Management Programmes and has served as an officer for 4 southern states, while carrying out inter-agency coordination. She worked with BOSCO, Bangalore and headed the Foster Care Programme as Programme Coordinator for two and half years. She was also the Core Committee Member in the drafting of the Foster Care Guidelines for the State of Karnataka. She led the team to do the first of its kind research and publish the book on Foster care covering nine state of India.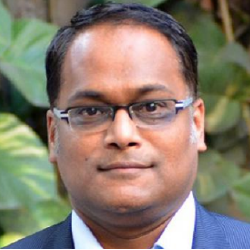 Mr. Shripad Gajanan Palsuledesai
Executive Member-Sphere India
INGO Representative
Managing Director & Country Director, AmeriCares India Foundation
International non-government organisations are represented by Mr. Shripad at Sphere India. He is presently the Managing Director and Country Director for AmeriCares India Foundation. He has been spearheading the operations of various non-profit organisations and is focused on gift-in-kind partnerships with India-based pharmaceutical manufacturers and donations to local health care programs in response to natural disasters and chronic resource constraints in poor communities. Through the direct mobile healthcare delivery program, he is currently working in the slums of Mumbai, and has lead the organization's efforts to combine technology with continuity of care to improve the health of these marginalized populations.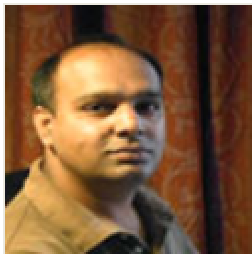 Mr. Sanjay Vashisht
Executive Member-Sphere India
Network Representative
Director, CANSA (Climate Action Network South Asia)
Mr. Sanjay is presently the executive member at Sphere India and serves as the Director of Climate Action Network in South Asia (CANSA) and also advising Climate Change Programme of Heinrich Boell Foundation in India. Prior to this, he worked with TERI as Climate Change expert. With his Natural Resource Management qualification and experience, he has been involved in implementing livelihood projects in Central India and recently is drafting State Action Plan on Climate Change (SAPCC) for Indian State of Nagaland in North-Eastern hills. In the SAPCC, he focused on integrating Climate actions in Forests and Livelihoods Sectors that are already affected due to erratic changes in temperature and Rainfall.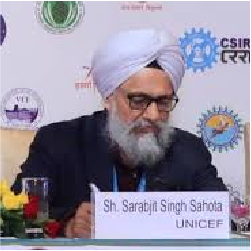 Mr. Sarbjit Singh Sahota
Executive Member-Sphere India
UN Representative
Emergency Specialist Disaster Risk Reduction Section, UNICEF India
Mr Sarabjit Singh has been the UN Representative with Sphere India and is an Emergency Specialist Disaster Risk Reduction Section at UNICEF India. With over 20 years of professional experience in steering development and humanitarian strategy, he leads organisations, programmes and projects with frontline agencies in the domain of community/social development, humanitarian programme management, capacity development, disaster risk reduction planning, urban planning and design. He has a distinctive combination of competencies in people and programme management, participatory development planning, settlement planning and disaster resistant construction, emergency response, planning for water and sanitation with practical skill in development diplomacy, organizational development, risk aware development planning, result oriented monitoring, evaluation and capacity building of staff, partners and Government counter parts. At ease working & leading in multi-cultural, multi-stakeholder environments. Alumni of International Visitor Leadership Programme, 2005; respond to natural disasters, Department of State, Government of USA.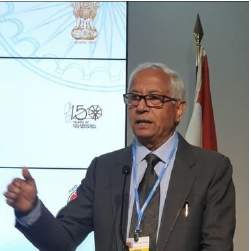 Dr. Vinod K. Sharma
Executive Member-Sphere India
Individual member Representative
Senior Faculty, IIPA (Indian Institute of Public Administration), New Delhi Vice Chairman, Sikkim State Disaster Management Authority, Govt. of Sikkim
Dr. Vinod K. Sharma is senior faculty of Disaster Management Studies at the Indian Institute of Public Administration, Delhi and is the Executive Vice Chairman of Sikkim State Disaster Management Authority, Government of Sikkim. He presently serves as an individual member representative to Sphere India. He was awarded Ph.D. in Ecology from Banaras Hindu University in 1971. Dr. Vinod has extensive experience of teaching and research in India, Middle East and Northern Africa. He was consultant in a research project at Delaware State College, Dover, USA Dr. Sharma has published more than 72 research papers, written/ edited 10 books and guided a number of Ph.D., M.Phil. and M.Sc. students in various Universities in India and abroad. Prof. Sharma was instrumental in setting up National Centre for Disaster Management in IIPA in 1995 which is now upgraded as National Institute of Disaster Management. Prof. Sharma was Chief of Party of USAID- funded PEER programme for 6 Asian countries from 2003-2006 (India, Nepal Bangladesh, Indonesia, Phillipines and Pakistan).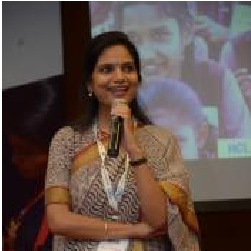 Ms. Nidhi Pundhir
Executive Member-Sphere India
Individual member Representative
Director CSR – Head HCL Foundation
Ms. Nidhi Pundhir serves as Director-CSR at HCL Foundation and at the moment, is an Executive member representative with Sphere India. She has over nineteen years of experience on actualising Rights of Children at state, national, continental and global levels. She spearheaded the development of Plan International's first ever Global Strategy on Child Protection Programming (2015-2020). Ms. Nidhi has worked with Save the Children, SOS Children's Villages International and Plan International in the past. She has an exclusive experience in child protection programming including safeguarding and ha pioneered the processes of child protection situation analysis at global, regional and national level strategy development. Resource mobilisation towards child protection and generating a traction internally as externally towards the subject is her key strength.