Why join Sphere India?
As a member you will play an active role in the future of the Sphere India standards to make a difference in humanitarian response. You will have a share in developing Sphere's strategic direction for years to come.
By becoming a Sphere India member, organisations and individuals are committing to collective action to achieve our shared mission:
"To promote the right to life with dignity in humanitarian crises, improving the quality of humanitarian assistance and the accountability of humanitarian actors to people we serve, our donors, and our partners."
Our members believe in principled humanitarian action and in the power of applying the Sphere approach and humanitarian standards to achieve this mission.
Benefits of being member:
Member of Sphere India will be exposed to multiple sector committees and cross-cutting sectors. During emergencies, members will be designated with varied responsibilities and will get to attend many coordination meeting with the state and district administration.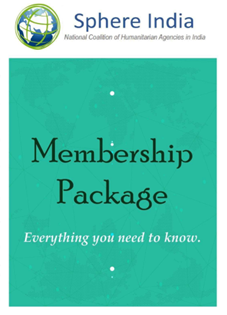 For more information, please write to us at
kennedy@sphereindia.org.in